Over 100 teachers in public and private schools across Lagos East Senatorial District, who enrolled for the 2022 Class of the Lagos East Teachers Fellowship (Cohort 2) at the Senator Abiru Innovation Lab(SAIL), graduated on Friday after successfully completing their training that lasted for over three months.
Teachers, numbering over 1,500, applied for the training. 950 got enrolled for the online class for 30 days. 120 outstanding participants got admitted into physical class, while 105 graduated. 
Senator Abiru Innovation Lab (SAIL), is a first-of-its-kind Community Innovation Space, set up in partnership with renowned technology and Social Enterprise company, The Co-creation Hub (Cc-HUB) to train youths in the Lagos East senatorial district on relevant digital and innovation skills and build the best entrepreneurs that can compete in the ever-dynamic global economy. Lagos East Teachers' Fellowship, is one of the leading cutting-edge programmes at SAIL.
In his opening remarks, the SAIL Project consultant, Mr Deji Abisola, said that "The Lagos East Teachers Fellowship has provided an invaluable platform for educators to learn, grow, and develop their skills.
This year's graduates have been trained in Inquiry-Based Learning, a  cutting-edge pedagogical approach that encourages students to actively engage with the learning process.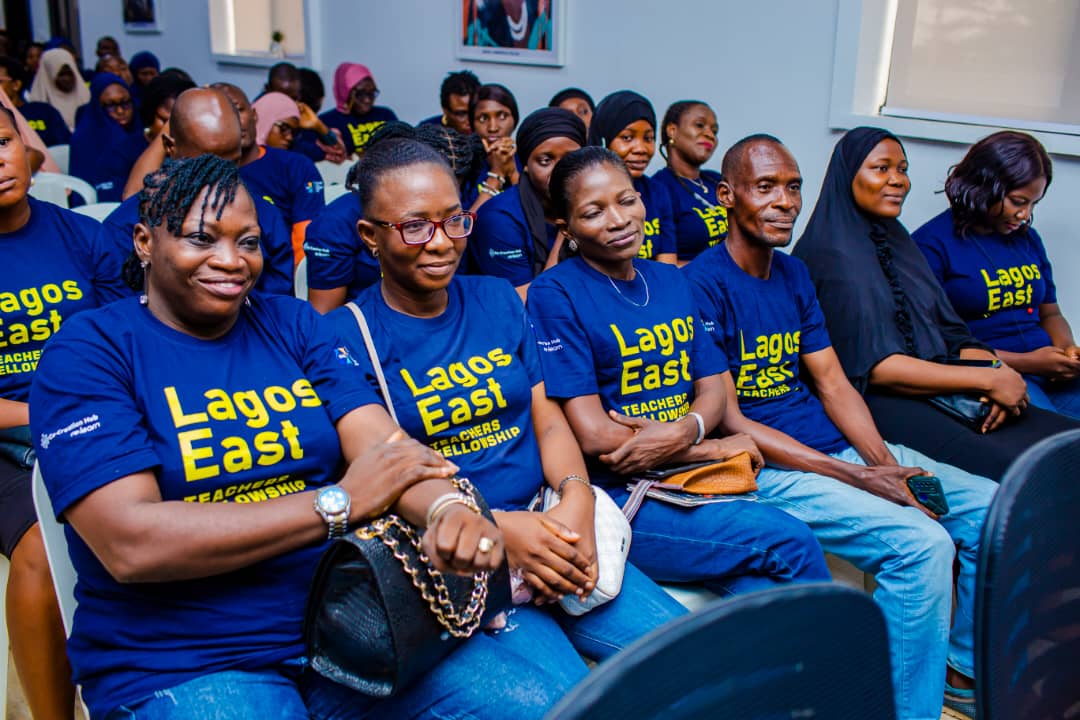 This dynamic method is designed to stimulate curiosity and foster critical thinking, preparing the young minds of today for the challenges of tomorrow. 
"In addition to Inquiry-Based Learning, our graduates (Lagos East Teachers' Fellowship) have also been equipped with the knowledge and tools to integrate technology into  their classrooms effectively.
This is particularly significant, as we live in a rapidly evolving digital age where technology has become an indispensable part of our daily lives. By embracing the use of technology in education, we are opening doors to a myriad of opportunities that will enhance the learning experiences of our students and ultimately, shape the future of our society".
Abisola also announced the launch of the Ikorodu Teachers Lounge. According to him, it is a virtual community that will further deepen knowledge sharing and interactions among teachers who passed through the SAIL.    
"Today, we also have the pleasure of launching the Ikorodu Teachers'  Lounge. This innovative space, made possible by the visionary leadership of Senator Tokunbo Abiru through his endowment pillar platform, the TACT Foundation, will serve as a hub for educators to  connect, collaborate, and share best practices with one another.
The  Ikorodu Teachers' Lounge is a testament to our commitment to fostering a strong community of educators who are dedicated to the continuous improvement of teaching and learning" Abisola disclosed. 
Graduating participants, in their valedictory speeches, eulogized the visionary leadership of Distinguished Senator Mukhail Adetokunbo Abiru, FCA, for conceptualizing SAIL, particularly the Teachers' Fellowship programme.    Adedeji Owoyade, one of the Valedictorians remarked, "I teach Government at Epe Senior Grammar School, Epe, Lagos State. I belong to Cohort II, Non-STEM Group I of the Lagos East Teachers' Fellowship. The Lagos East Teachers Fellowship has greatly impacted me as a classroom teacher. 
"My exposure to the inquiry-based method of teaching has opened my eyes to a new way of thinking and planning. With my knowledge of Google Slides, Render Forest, Inshort, Legend, Canva, and 2D and 3D Animation, I have learned better ways to develop and use instructional materials in my classroom. Also, my engagement with students has given them more opportunities to think, reflect and own ideas on topics and issues. It has also improved their abilities as individual learners.
"My experience in the program was very educative, engaging, and impactful. I want to thank all the facilitators, for their innovative ways of teaching us. I often engage my colleagues on the new ideas learnt from the program. I hereby recommend the Lagos East Teachers Fellowship to all teachers in Ikorodu and Lagos State".
Sobowale Adefolahan Olusesan, said, " I wish to sincerely appreciate the creativity and innovativeness of our indefatigable Senator Mukhail Adetokunbo Abiru for putting a premium on human capital development, especially for us teachers to learn new pedagogies and improve the learning outcomes for students".
Blessing Osoba, a Biology teacher at Olomu Community Senior Secondary School, Ibeju-Lekki opined that " With a lot of hands-on training in digital learning applications such as a Reindeer forest, In-shot, Canva, and Legend for instructional designs as well as materials to facilitate learning, my experience in the Lagos East Teachers' Fellowship has been truly rewarding for my career. 
In addition, using digital labs, Google Classroom, and Quiz has been a game changer for me, helping me engage learners in better exploration of scientific concepts and assess my learners' understanding".  
Qudus Bello, a Further Mathematics teacher at Community Senior High School, Orimedu, who was part of the Lagos East Teachers' Fellowship (STEM) Cohort 2.
 He said, "Through the fellowship program, I was able to master the art of inquiry-based learning and apply it to deepen my students' imaginations and boost their creativity. I was also exposed to using a digital laboratory as instructional material for science practicals which has improved the learning experience and outcomes".
Senator Abiru, who was represented by his Special Adviser on Constituency Matters, Dr(Otunba) Saheed Oladapo Ibikunle, congratulated the teachers on the successful completion of their training. He admonished them to impact their students with the skills they have acquired.
Dr. Ibikunle, who is a seasoned educational administrator, charged the teachers to explore various teaching methods in improving learning outcomes in their students.
He declared that what a student does not know is what he has not been taught. He concluded by tasking the teachers to adopt continuous capacity development as a lifestyle. 
The Ikorodu Teachers' Lounge, an initiative aimed at providing a space for teachers in Lagos East to work, study, and collaborate, was officially launched at the event also.
Chinyelu Akpa, Practice Lead for Education at re: learn, an initiative of CcHub, expressed her gratitude to the Senator for creating a rare opportunity for teachers in the district.
The Ikorodu Teachers' Lounge offers registered teachers free access to the SAIL Lab, a state-of-the-art facility designed to provide an ideal environment for study, work, and research. Teachers can utilize the lab for free between 3-5pm daily, although advance booking is required to ensure a smooth and organized experience for all users.
In addition to providing a space for individual work and study, the Ikorodu Teachers' Lounge aims to foster a sense of community among educators in Lagos East.
Every Friday, the Lounge will host community events specifically geared towards the professional development and growth of local teachers. These events will facilitate collaboration, knowledge sharing, and networking, ultimately contributing to the improvement of education in the district.
Chinyelu Akpa emphasized the importance of supporting teachers, stating, "By providing this space and organizing these community events, we hope to empower teachers with the resources and connections they need to thrive in their profession. We believe that when teachers are supported, the entire education system benefits, leading to better outcomes for students and the wider community."
The Ikorodu Teachers' Lounge is a clear example of the power of collaboration between the private sector and non-profit organizations to create initiatives that drive positive change. As the Lounge continues to grow and develop, it will serve as a valuable resource for educators in Lagos East, ultimately leading to a more robust and well-supported education system.
A call for applications for the 2023 cohort was declared open by SAIL. Teachers in public and private schools in Lagos East are enjoined to apply.