he Chairman, Senate Committee on Industries, and the Senator representing Lagos East Senatorial District, Distinguished Senator Mukhail Adetokunbo Abiru, FCA, alongside Ikorodu Division Apex Leader and member, Governance Advisory Council(GAC), His Excellency, Prince Abiodun Ogunleye, Asiwaju Reuben Olorunfunmi Basorun, Senator Adeseye Ogunlewe, Asipa Kaoli Olusanya on Saturday attended a crucial meeting with Senator Abiru's 1,400 Canvassers in Ikorodu Division.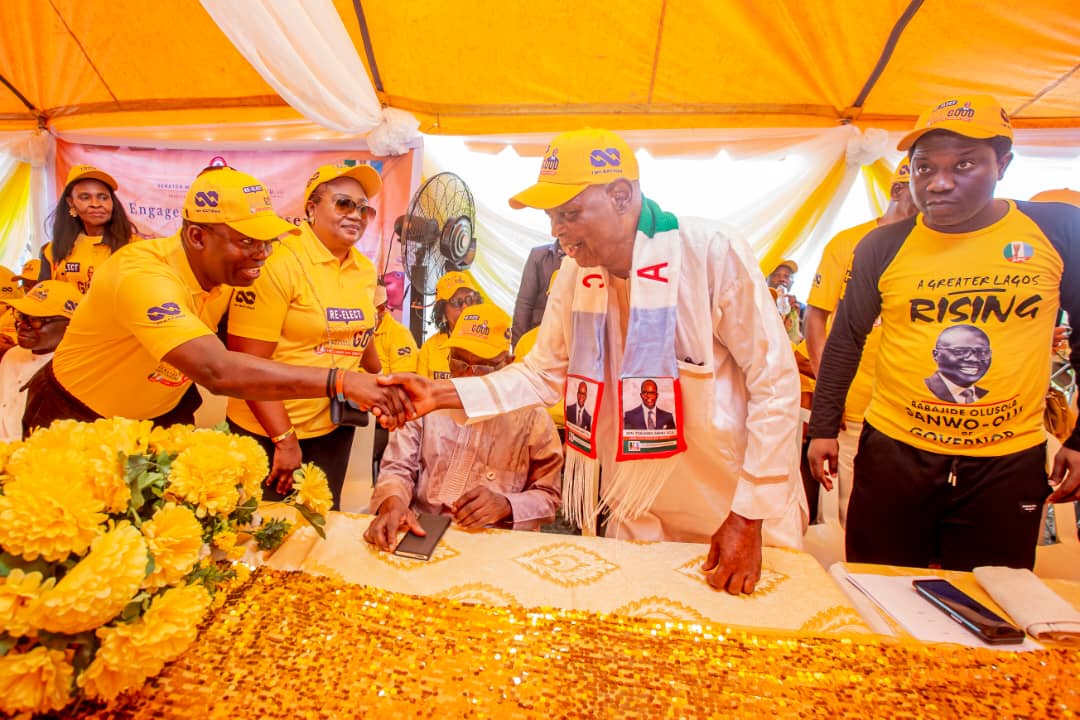 Mr. Adetokunbo Gbolahan Ogunleye and Mr. Aro Moshood Abiodun, APC Candidates for Lagos State House of Assembly,  (Ikorodu Constituency 1) and (Ikorodu Constituency 2) respectively, were also present at the meeting held at the Senator Abiru constituency office in Ikorodu. 
The Canversers operate under the auspices of East Consultative Forum, ECF, an independent Campaign group that is complementing the party's voters mobilisation drive in the Lagos East Senatorial District. There are over 4,000 Canvassers engaged by Senator Abiru to mobilise voters for the party, and all the candidates ahead of the February 25 and March 11, 2023, general elections.   Senator Tokunbo Abiru in his remarks urged the Canvassers to intensify voters mobilisation exercise across the Ikorodu Division and by extension, the 98 wards in the 16 LGAs/LCDAs under Lagos East. The Senator sensitised  them on the need for the party to have a large voter turnout that will boost the number of votes for APC, particularly, the presidential candidate, Asiwaju Bola Ahmed Tinubu. 
Former Lagos State Deputy Governor, Prince Ogunleye thanked Senator Abiru for his purposeful leadership and his top-notch voter mobilisation strategies. He called on all the party members and supporters in the Ikorodu Division to ensure that the party gets massive votes. 
In the same manner, Asiwaju Olorunfunmi Basorun asked party members to ensure that APC wins convincingly with unprecedented numbers of votes. He appreciated the Senator for his support and efforts at ensuring that APC wins by landslide in the elections.
Asipa Olusanya and Senator Adeseye Ogunlewe and other leaders at the engagement session also rallied support for Asiwaju Tinubu, Senator Abiru, and all candidates of the party. 
Friends of the Senator were also present to witness the meeting. Hon Babajimi Adegoke Benson, House of Representatives member(Ikorodu Federal Constituency), later joined the reception for friends and family members at Senator Abiru's residence in Ikorodu.